Publications: Accounting & Finance
Accounting & Finance - Listed in Thomson Scientific's Social Sciences Citation Index, is edited by Professor Gary Monroe.
AFAANZ members have full online access to Accounting & Finance Journal by accessing the Journal online via the Wiley Online Library.  Access the journal through the dropdown menu on the AFAANZ website: Research>Journal (Member access), direct link https://www.afaanz.org/resources/member-access
Keep up to date with the latest table of contents, emailed directly to your desktop, by registering for free E-Alerts at https://onlinelibrary.wiley.com/journal/10.1111/(ISSN)1467-629X
The Accounting & Finance Apple app is also available on iTunes.  Access it by clicking here.
---

Call for Papers
---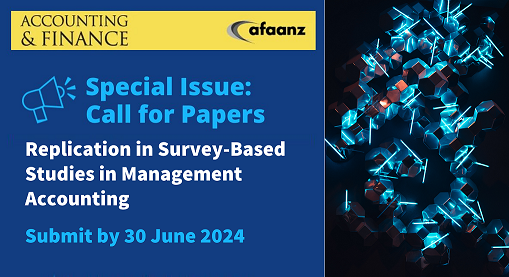 Overview & Aims

Empirical research in management accounting has advanced knowledge and bridged the gap between theory and practices in the field of management accounting. Research in management accounting contributes to the continuous improvement and evolution of management accounting practices. As in all theory development and the accumulation of scientific knowledge, replication studies play a vital role (see Anderson & Maxwell, 2017; Makel et al., 2012). Replication research aims to assess the robustness and contribute to "empirical generalization" (Hubbard et al., 1998, p. 243) of the findings of the original study. Replication types can be classified into (1) close replication and (2) differentiated replication (Lindsey & Ehrenberg, 1993). In a close replication study, all the known conditions (e.g., sampling procedure, measurement, and analysis techniques) are kept almost the same or at least very similar, while in a differentiated replication study, deliberate variations of the known conditions are adopted.

To date, there are relatively limited replication studies in management accounting research. We note that Bruggen et al. (2021), for example, have devoted a special issue to publishing replication studies in experimental management accounting. We believe that a special issue focusing on replication in "survey-based" management accounting research will complement Bruggen et al. (2021) and help to further validate and add credibility, reliability, and robustness to some of the previous survey-based studies in management accounting. This Special Issue aims to provide a research forum for researchers to disseminate their replication results, relying on a survey-based methodology in management accounting research
Special Issue Guest Editors
David Bedford (University Technology Sydney, Australia, David.Bedford@uts.edu.au)
Vincent K. Chong (The University of Western Australia, Vincent.Chong@uwa.edu.au)
Johnny Jermias (Simon Fraser University, Canada, jjermias@sfu.ca)
All details are available HERE.  Submission deadline:  30 June, 2024
---
With the journal's move to online only publication in 2023, the MD-POD program gives AFAANZ members who still wish to receive hard copies the ability to order a printed volume subscription at a heavily discounted rate.
How?
Members navigate to Sheridan's webstore and click through to Accounting & Finance: https://ondemand.sheridan.com/collections/wiley-accounting-finance
Members select "Print subscription" option, enter their region and quantity, then select add to cart. The full price will still be shown.
Members proceed to check out and enter the following discount code in the relevant field: 2TYRF9KMM8DH
The discount will be applied and members can then enter their preferred mailing address and process the payment as normal.
Cost? The cost for an entire printed volume is as follows:  USA $121.47, UK $100.82, EUR $113.54 and ROW $166.16
Considerations?
The discount code is valid until 31 Jan 2024
The member discount is only available on purchases of the full volume. Single issue purchases are subject to full price
---
A&F Journal Specialisations and Editors
Please click HERE to see the list of Accounting & Finance editors.
The Board is striving to have representation of all the different research interests of our members among the editors, in order to make the journal representative of the broad range of interests in the AFAANZ community. These editors can also handle a broad range of research methodologies, as indicated.
We would like to encourage our members to submit papers on all aspects of accounting and finance research. In particular, please consider submitting papers that has been accepted for, or presented at, our conferences in all the various streams and topics we include in our conference program. Please contact info@afaanz.org if there are research interests and/or methods not represented by our editors.
If you are not an AFAANZ member, but would like to submit a paper, you can pay the submission fee HERE. The submission fee gives you member access for the current calendar year.
Peter Brownell Manuscript Award is awarded to the best accounting article published in the A&F Journal. In 2022, the best finance paper manuscript award was introduced for the best finance paper, and in 2023, the AFAANZ Board renamed this award to the Robert Faff Manuscript Award.  Click HERE to see the recipients of the awards since 1986.