Please see below a list of Call for Papers
---

Call for Papers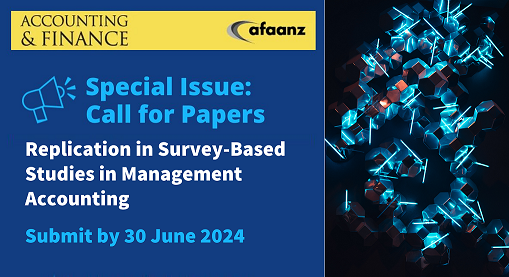 Call For Papers for a Special Issue on Replication in Survey-Based Studies in Management Accounting in Accounting & Finance Journal.
Initial Submission due by 30 June 2024.
Learn more HERE
Special Issue Guest Editors:
David Bedford (University of Technology Sydney)

Vincent K. Chong (The University of Western Australia)

Johnny Jermias (Simon Fraser University)
---
Upcoming special sections of the British Accounting Review (BAR)
Blockchain: Impact on Accounting and Accountants. Click HERE for more details (deadline January 31, 2024)
All details are available HERE
---
CEFGroup Sustainable Finance and Accounting Symposium
Otago Business School
DATES: Thursday 30th November – Friday 1st December 2023
(Hybrid option available for Non-AU/NZ attendees)
The Climate and Energy Finance Group (CEFGroup) welcomes submissions of papers for its fourth academic symposium. We welcome papers in all areas of sustainable finance and accounting, such as, but not limited to, topics in climate finance, carbon markets, sustainable investing, greenwashing, sustainability disclosures and net zero commitments. All accepted papers will be allocated a discussant.  For all details, click HERE
Submission deadline: Thursday 31 August 2023
---
RMIT Accounting Educator's Conference 2023
Artificial Intelligence (AI) and Curriculum Change in Accounting Education
The fourteenth annual RMIT Accounting Educators' Conference will be held in hybrid mode on Monday, 27th November 2023, at the
offices of CPA Australia, Melbourne, Australia. The RMIT Accounting Educators' Conference is a refereed conference dedicated to the advancement of the theory and practices of accounting education. The conference promotes collaborative excellence between members and institutions from practice and education. The aim of the Conference is to provide an opportunity for academics and professionals with cross-disciplinary interests to bridge knowledge gaps, strive for excellence in research and promote the evolution of accounting education in the development of future accounting professionals. The conference invites research papers and extended abstracts that encompass conceptual analysis, design implementation, critiques, empirical analysis, practice, and performance evaluation. All details are available HERE
Deadline for Submissions: 11 September 2023
---

2024 UTS AUSTRALIAN SUMMER ACCOUNTING CONFERENCE, 1-2 February 2024
Call for Papers

The 26th annual Australian Summer Accounting Conference will be held at the University of Technology Sydney Business School on 1 - 2 February 2024. The 2024 Summer Accounting Conference will comprise a panel session of leading standard setters and eight paper presentations with lunch and networking drinks provided on both dates. The panel session will focus on the rapid developments occurring in sustainability reporting. Each paper presentation will be followed by an invited discussant. The conference regularly attracts leading accounting researchers from around the world, and presenters include faculty from leading institutions in North America, Europe and Asia. The Accounting Discipline Group at UTS is committed to ensuring that the Australian Summer Accounting Conference continues as the premier event of its type in the Australasian region.
Conference Details:
Conference Date:       Thursday & Friday, 1 & 2 February 2024
Conference Location:  UTS Business School (Dr Chau Chak Building, Building 8)
                                    14-28 Ultimo Road, Ultimo NSW 2007
Capacity:                     Limited seats available
Cost:                           Complimentary
Attendance at the conference will be by invitation only.
Registration link : Click here to register
Paper Submission Details:
The UTS Accounting Discipline Group will provide financial support for presenters of selected papers and discussants. This support will typically include three nights' accommodation and a contribution towards travel costs. In addition, a prize of $3,000AUD will be awarded for the best paper presented at the conference, and a prize of $2,000AUD will be awarded for the best discussant. Prizes will be determined by a vote of attendees
Those interested in presenting a paper are encouraged to submit their work as soon as possible, but no later than Wednesday, 15 November 2023. Authors of selected papers will be advised no later than Friday, 24 November 2023. Papers are invited in any area of accounting research, and research method. Early submissions are encouraged.
Submission Paper : Click here to submit your paper
Please check our website for more information 
If you have other inquiries, please contact us by e-mail at accounting.bus@uts.edu.au
---

Digital technologies and sustainability accounting, reporting, and assurance
This Special Issue examines the impact of contemporary digital technologies, such as big data analytics, artificial intelligence and machine learning, blockchain and cryptocurrency, social media communication, cloud computing, and the internet of things (IoTs), to name a few, on sustainability accounting, reporting, and assurance. Such technologies are profoundly impacting the world we live in (De Villiers, Kuruppu and Dissanayake, 2021). The constant flow of innovative technologies is driving disruptive transformations across all aspects of life. These technological advancements offer considerable promise for enhancing accounting's capacity to measure, record, analyze, and communicate an increasingly broader range of data and information necessary for supporting sustainability accounting, reporting, and assurance. Blockchain technology, for instance, provides transparency and traceability throughout the supply chain, which is of vital interest to consumers who are concerned with issues such as environmental protection, sustainability, transparency, and social responsibility (Xu et al., 2019; De Villiers et al., 2021).
Submission deadline: 28 February 2024.  All details are available HERE
                                    - - - - - - - - - - - - - - - - - - - - - - - - - - - - - - - - - - - - - - - - - - - - - - - - - - - - - - - - - - - - -
Qualitative Accounting Research from a Chinese perspective
This special issue calls for research from the perspective of China's unique rich cultural perspective and strong government influence, adopting qualitative methods of research. This call for papers does not intend to narrow submissions to particular topics but to give authentic voice to research in China by delving into the socio-political and historical aspects of accounting and auditing practice in China; and/or by conducting research informed by traditional Chinese philosophies such as Confucianism, Taoism, and Buddhism. Qualitative approaches to research inclusive of interviews, case studies, critical discourse and documentary analysis are strongly encouraged.
Submission deadline: 30 June 2024.  All details are available HERE
---
Call for Chapters: Convergence of Digitalization, Innovation, and Sustainable Development in Business
Objective
The main objective and value of this book lies on the intersection of the two crucial areas, digital transformation and sustainable development, and how they operate in coherence. Our main objective in this book is to cover digital transformation from several different perspectives related to sustainable development and provide organizations a variety of digital innovative solutions and strategies, from which they can choose the ones that best suit their own requirements and sustainability strategies. As digital transformation has a substantial range of application through utilization of various technologies and tools, this book is expected to have a significant impact in both academic literature and practical applications in a diverse range of industries, from healthcare to tourism, from banking to education, from aviation to logistics, every one of which has a significant role in contributing to sustainable future. This technology-based approach to sustainable development will enable industries and academicians to realize their potential and open doors to new opportunities, while also posing new challenges to strategy makers who will need to adapt and evolve or take the risk of being disrupted.
All details can be found HERE, Chapter proposals can be made HERE
Important Dates
September 15: Proposal Submission Deadline
---
SAMPJ Special Issue - The use of technology by organizations to enhance social and environmental sustainability
Many organizations currently consider transformative change to create opportunities for a better quality of life and a sustainable future (Linnenluecke et al., 2017; Lee and Trimi, 2018). Digital technologies often provide opportunities to achieve these goals in new ways, e.g. through the internet-of-things (IoT) and blockchain technology (De Villiers et al., 2021). Apart from bringing new solutions, digitalization also challenges the business environment (Vial, 2019). These challenges require increasing interaction with digital technologies entailing transformation in many different ways (Van Veldhoven and Vanthienen, 2019).  Submissions open on 1 February 2024
For further information, click HERE
You may also consider attending the associated conference in Lille, France, on 25-26 May 2023 – For further information: ELEONORA VEGLIANTI <eleonora.veglianti@univ-catholille.fr>
---
Journal of Accounting in Emerging Economies Special Issue
Special issue call by the Journal of Accounting in Emerging Economies on the Middle East and North Africa (MENA) region, co-edited by Yasean Tahat from Gulf University for Science & Technology (GUST), Kuwait, Rania Kamla from Heriot-Watt University, UK and Teerooven Soobaroyen, University of Essex, UK.  For further details, click HERE
An associated in-person development workshop (optional) will be held Gulf University for Science & Technology (GUST), Kuwait in February 2024. Full details about the workshop are available at https://aaee.gust.edu.kw . The deadline for considering early drafts/extended abstracts and for consideration to the workshop is 1 July 2023. Journal submission will formally start on 1st June 2024.
---
Pacific Accounting Review
More than a decade ago, the Pacific Accounting Review opened a new chapter in accounting research with the special issue "The Pacific Odyssey." It pioneered an in-depth exploration of the role and impact of accounting in the South Pacific, sparking numerous conversations and research endeavors. In this special issue, we aim to retrace our steps, examining the strides made since our first Pacific Odyssey and identifying the gaps that still need to be filled. We invite accounting academics to contribute their original research and fresh perspectives, assessing the progress made over the past decade and highlighting the areas that warrant further investigation. This special issue aims to reassess and deepen our understanding of accounting's role in the South Pacific, its impact on the region, and the accountability it fosters within the unique socio-economic structures that characterize this part of the world.
An online talanoa session (conversation) will take place in November 2023. In this talanoa, authors can briefly discuss their study and get participant feedback. All papers wishing to be considered for the special issue should be submitted via Pacific Accounting Review's online manuscript submission system by June 2024.   All details can be found HERE
---
The International Journal of Accounting
Special Issue on ESG: Accounting and Reporting
The due date for submissions for this special issue is 30 September 2023. Early submission is encouraged as the review process begins immediately upon receipt of the manuscript. All details are available HERE  
Special Issue Guest Editors
Tracy (Kun) Wang (Australian National University, kun.wang@ anu.edu.au)

Lingwei Li (Australian National University, Lingwei.li@ anu.edu.au)
---
The IIMS Journal of Management Science
Special Issue on Climate Concerns and Corporate Governance
The due date for submissions for this special issue is 15 September 2023. Expected publication time is early 2024. All details are available HERE  
Guest Editors
Sharad Nath Bhattacharya (Indian Institute of Management Shillong, sharad@iimshillong.ac.in)

Tracy (Kun) Wang (Australian National University, kun.wang@anu.edu.au)
---

Special Issue on Digital technology and corporate reporting
Regulators have introduced digital corporate reporting mandates worldwide and now require firms in significant jurisdictions, including the US, EU, Japan, UK and China, to submit digital corporate financial reports (Troshani & Rowbottom, 2022). More recently, developments in 'sustainability' reporting standardisation indicate that digital technology will be utilised in standardising, disseminating and regulating sustainability reports (European Commission, 2021; European Council, 2022; IFRS Foundation, 2022; US SEC, 2022). 
Guest editors
Professor Indrit Troshani,
Dr Nick Rowbottom
Submission opens 1st July 2024, Close October 1 2024. 
This AAAJ special issue calls for research manuscripts investigating how the introduction of digital technology influences how corporate reports are prepared, used, standardised and assured. We broadly define the scope of corporate reporting to include financial and non-financial, sustainability reporting that entities provide to information users voluntarily or in response to statutory requirements.
For further details, click HERE
                         - - - - - - - - - - - - - - - - - - - - - - - - - - - - - - - - - - - - - - - - - - - - - - - - - - - - - - - - - - - -
Accounting and Accountability for Rewilding, De-extinction and Biodiversity Protection
This AAAJ special issue represents a platform for further research into accounting and accountability for international rewilding efforts and de-extinction projects. We welcome submissions of full papers that research these areas.  For further details, click HERE
Guest editors
Jill Atkins
Garry Carnegie
Warren Maroun
Simon Norton
The submission deadline for this special issue is 01 September 2024.
---
Special Issue on
"Rising Tide of Operational Risks: Management Controls for Better Risk Management"
Guest Editors:
Sergeja Slapničar, the University of Queensland, Australia
Sebastian Oelrich, TUD Technical University Dresden, Germany
For all details on this special issue, please download HERE
Deadline: May 31, 2024
Submissions submitted earlier are welcome and will be send out for review shortly after submission also before the deadline.
Submissions via Editorial Manager: https://www.editorialmanager.com/jmac/
---
Pacific-Basin Finance Journal (PBFJ) Call for Papers
Engaging with Responsible Science – An Ongoing Initiative in Pre-registered Research
PBFJ is actively embracing and fostering the principles of responsible science, captured by three central pillars: Credible research, Relevant research, and Independent research. As part of this commitment, we issue an ongoing call for research that engages a "pre-registration" design.
Pre-Registration in a Nutshell
The pre-registration process focuses on accepting proposed projects based on innovative ideas (clearly linked to finance research questions), highly capable expert research teams, and frontier "gold standard" techniques that promise to deliver credible and reliable knowledge. The primary evaluation occurs before the research has been conducted, ensuring that the decision to publish is not affected by the significance or direction of the results but rather by the importance of the research question and the strength of the methods.
Four-Phase Process
Expressions of Interest:

We invite expressions of interest as the first step in a 4-phase process of pre-registration studies.

Pitch:

Approved teams are invited to pitch their idea in 1,000 words.

Pre-registered Report:

For approved pitches, teams are invited to create a detailed pre-analysis plan (before any data are collected), which will be peer reviewed. Accepted reports will be published stand-alone in PBFJ.

Pre-registered Study:

For accepted pre-registered reports, teams are invited to execute the study under the status of "in principle accept".

 

These fully executed studies will undergo peer review, primarily to ensure adherence to the agreed protocol.

Accepted studies will be published in PBFJ as companions to their matching reports.
For further details (including eligibility and submission details), please refer to the full editorial note.
---