This years theme is "Accounting has changed, where do we fit?". Included in the program are two panel sessions debating the changed nature of accounting as a profession. One panel with industry professionals, and one with academics. We also have a variety of presenters who will share their research and insights on the theme, all with differing perspectives. The forum will be forward focused, thought provoking and useful for all AFAANZ members. More details will be available closer to the date.  We hope that you can join us in person at this exciting event.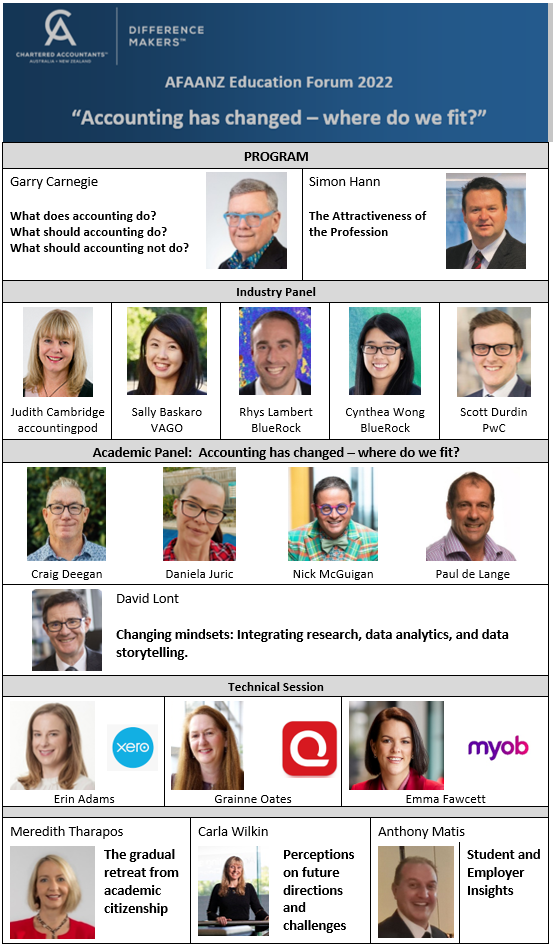 Please find Garry Carnegie's powerpoint presentation HERE
---

RMIT Accounting Educators' Conference 2022
The RMIT Accounting Educators' Conference was held in hybrid mode at the offices of CPA Australia, Melbourne. The conference is dedicated to the advancement of the theory and practices of accounting education and promotes collaborative excellence between members and institutions from practice and education. The aim of the conference is to provide an opportunity for academics and professionals with cross-disciplinary interests to bridge knowledge gaps, strive for excellence in research and promote the evolution of accounting education in the development of future accounting professionals.
Please find below the presentations for viewing:
Opening Address and Plenary (Keith Kendall)
To view the sessions below, click on the session title:
| ROOM 1 | ROOM 2 | ROOM 3 |
| --- | --- | --- |
| Professional   Skills | SDG's in   Curricula | Assessment   & Curricula |
| Edward Tello Melendez, Monash University | Abdel   K Halabi & Craig Hurley, Federation University | Olga   Cam, Sheffield Management School, UK & Joan Ballantine, Ulster University |
| Implementation of online discussion boards to   enhance professional skills and business-news-habits of accounting students | Accounting   post-graduate student views on the usefulness of a course teaching the United   Nations sustainable development goals | Exploring   Accounting Academics' Perspectives on Sustainability: A Freirean Critical   Pedagogic Perspective |
| Daniela Juric, Monash University | Sahar   Alazzeh, University of Southern Queensland | Seedwell   Sithole, University of Tasmania |
| Accounting Education for Gen-Z - Lessons from   student co-creation | Enhancing   the incorporation of sustainability accounting in accounting education in   Australian universities: the perspective of academic staff | Higher   order cognitive skills in accounting education: An Australian case study |
| Jennifer Rose, University of Manchester, UK | Christine   Helliar, University of South Australia | Farzaneh   Jalali, Latrobe University |
| Engaging generation Greta in accounting teaching | SDG   8 and modern slavery: An accounting education curriculum | The   role of accounting in society after the Covid-19 pandemic: Future directions   of accounting education |
| Youyin Yu, University of Tasmania | XingDong   Yan, Accounting Pod | Amrinder   Khosa, University of Tasmania |
| International accounting graduates (IAG) employment   intentions and outcomes in Tasmania | Empower   the future eco-warriors (Accountants) by embedding SDGs into active learning   case studies (curriculum and assessments) | Accounting   curricula, climate crisis and carbon net-zero transition |
| SDG's in Curricula | Professional   Skills | Student   Engagement |
| Lorena Mitrione, Monash University | Clara   Nkhoma & Sonia Magdziarz, RMIT University | Nicola   Beatson, University of Otago |
| Integrity of assessments in challenging times | Ethics   education and serious games | Outcomes   from the office of student success |
| Thuy Thanh Tran, University of Kassel, Germany | Martin   Turner, Central Queensland University | Amanda   White, University of Technology Sydney |
| Adopting collaborative learning to facilitate   case-based learning: the case of an environmental management accounting   course | Communication   skills in accounting: Awareness and fear | Introducing   indigenous perspectives into the accounting curriculum: An initiative for a   national set of educational resources |
| Merwiey Alaqrabaw, Hashemite University, Jordan | Cecile   Janse van Rensburg, University of Pretoria, South Africa | Ha   Nguyen, RMIT University, Vietnam |
| Reviewing the status of teaching sustainability   accounting in accounting classrooms: Jordanian study | An   analysis of students' text-based interactions while collaboratively reading   and annotating a financial reporting standard | Cultural   intelligence in the transnational teaching of accounting in Vietnam |
Panel Session
---
Notes on registering for the above events:
Click on "Click to Register Here" button above
Click on Purchase Event button
Click on Add to Cart button
Click on Cart icon at top of page 
Check that the item is listed then click on Checkout button
Login into your AFAANZ account (or create an account) and enter Billing Details if fields are empty then click Next button
If all looks OK, click on Place Order button and it's all done!
You will receive a confirmation email as well.
If you have any queries, contact info@afaanz.org
---
AFAANZ thanks CA ANZ and presenters for a very successful 2021 event. Below are the videos of the sessions from the Forum:
CA ANZ Welcome & Introduction
The following presentations are available for downloading:
Technology in Financial Accounting and Audit
How the teaching of Excel has been embedded into the Accounting Undergraduate subjects at MQ
Insights from the frontline – how tools and technology are shaping the role of graduates
Modern students deserve modern solutions: Interactive, gamified learning
Blockchain in Accounting Education
The following presentations are available for downloading:
MYOB Case Study
– University/MYOB collaboration to take more students to cloud and beyond
---
Past Forums