The Accounting Education Special Interest Group are a community of like-minded individuals coming together from academia, industry and the accounting profession to collaborate, share and co-create. We aim to improve the quality of accounting education, especially through the development of relevant and innovative curricula, placing a renewed emphasis on effective instruction in accounting programs.
We aim to bring together Australasia's leading Accounting Educators and Researchers in one of the largest communities outside the US.
---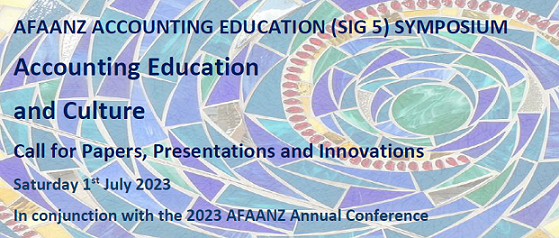 Join us at The Star on the Gold Coast, Australia, to participate in a symposium on accounting education that celebrates best practice education and research through a program of papers, panel sessions, and presentations by academics and industry. This year the symposium will engage you with the theme 'Accounting Education and Culture'. We invite participants to explore this theme broadly, considering cultural identity, classroom and learning culture, institutional culture, industry culture and more.
Our keynote speaker for 2023 is Jeremy Khoh, who will address the topic of: Psychologically Safe Leadership and Culture
Our post-SIG dinner will be held Miss Moneypenny's, Broadbeach. Come along to share your memories and celebrate 25 years of the Accounting Education SIG!

Registration: To register for the SIG, please use this link  For AFAANZ members, in-person attendance is $50 day-only and $100 including dinner ($80 day-only and $175 including dinner for non-members). Online attendance is free – there will be a Zoom link and you can post questions to ask the presenters in the chat.
We look forward to meeting you all on the Gold Coast for what promises to be an engaging and invigorating experience.
The SIG5 Committee:
Leopold Bayerlein, Scott Copeland, Ellie Chapple, Ruth Dimes, Matt Dyki, Kimberly Ferlauto, Hoa Luong, Nick McGuigan, Lisa Powell, Bernadette Smith, Meredith Tharapos, Paul Wells and Amanda White
---
MEMBERSHIP
To become a member of the Accounting Education SIG you will first need to become a member of AFAANZ, The fee for AFAANZ membership is AU$170.50 including GST for applicants residing in Australia and AU$150 for applicants residing outside Australia. Note that membership is based on a calendar year.
The fee for the Accounting Education SIG is AU$22 including GST for applicants residing in Australia and AU$20 for applicants residing outside Australia. Click on the purchase button to gain access to this SIG. You may also "Join this Group" further below to be keep up to date with the latest news and events.